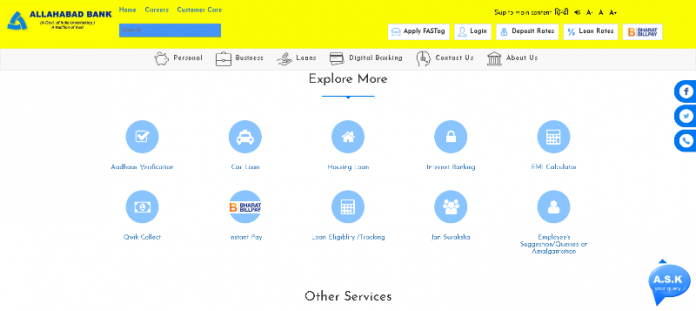 This bank, which is evaluated in the category of Public Sector Bank and serves in the fields of personal banking, loan, digital banking, is a highly reliable and prestigious institution. Allahabad Bank provides various conveniences to users in terms of tax savings and NRO deposit friendly services. This gives users the chance to benefit from more advantageous opportunities and save money. The organization saves time for its users thanks to its advanced technological services. In the following article, you can see the services provided by the institution in terms of technological facilities.
Allahabad Bank Benefits
Online Facilities
The online facilities offered by the Allahabad Bank are quite high. It is possible to make applications for many services online. It is possible to perform pre-application online for both loans and credit cards. You can also use the internet for other banking transactions. You can perform all transactions such as Online Banking, Mobile Banking, Bill Payment, Qwik Collect, Aadhaar Seeding, Online Application, E-Lobby, Online Donation within the scope of internet banking services.
Good Score in the Crisil Rating
The Allahabad Bank's score in the Crisil Rating system is 3.5 out of 5.
Good Interest Rates
Interest rates determined for NRI FD operations were approximately 6.5% to 6.55%. Interest rates for other transactions vary between 4% and 6.5%.
Good Loan Opportunity
The loans you receive from the bank. In this way, you will feel more free in your loan applications. It is possible to apply for different loan types such as car loans, housing loans, education loans. If you want to know if you are eligible for different loans, you can use the EMI calculator and eligibility calculator services on the official website.
Allahabad Bank FAQs