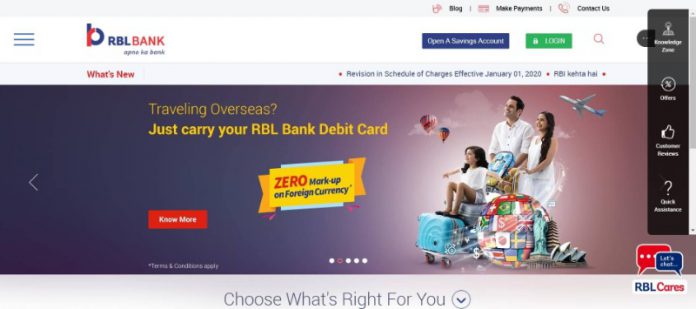 Reviews:
One of the most preferred banks in the Indian Private Sector Bank category is known as RBL Bank. Credit options and credit card options offered by RBL Bank are quite diverse. The Bank serves within the framework of the definition of personal banking. In this context, services such as digital saving account, call center, and personal loan are frequently used. For more information, see the following article.
RBL Bank Benefits
Advantageous Loan Packages
Partial withdrawal and premature withdrawal options are available with some very advantageous loan packages.
Savings & Loans
The institution actively serves in areas such as credit cards, personal deposits, fixed deposits, digital saving accounts, NRI Deposits, and business loans.
Interest and maturity rates of loan options are extremely minimized.
Auto-Payments
The RBL Bank provides extra advantages to customers who issue automatic payment orders for different invoices. Therefore, it can be very advantageous to use debit cards offered by this bank in daily life.
Interest Rates & Taxes Fees
The organization offers users advantageous rates in terms of tax fees, thus saving users. Interest rates demanded by the institution vary between 5% – 7.75%.
Instant Personal Loans
It is possible to withdraw instant personal loans up to 20 Lakhs. This is how you can meet your immediate cash needs. You can get credit for all your needs in the category of home furnishing, marriage, education, holiday or medical.
Online Banking
Thanks to the online banking system, you can perform all your remittance /EFT/bill payment or credit card debt payment transactions quickly and practically.
A quarterly compounding system is used in the bank.
You can have an NRE / NRO account. Moreover, if you open such an account from this bank, you will have the opportunity to win a gift voucher worth 250 Rs that you can use on bookmyshow.
RBL Bank FAQs