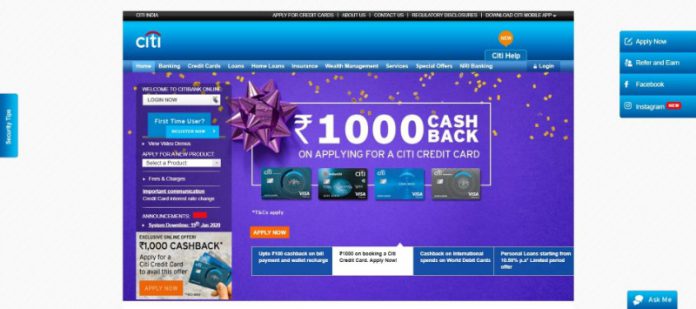 Reviews:
CITI Bank is one of the most popular banks in the Foreign Bank category and especially popular with cashback credit cards. In terms of student and housing loans, the CITI Bank offers highly advantageous offers to its customers. Insurance and wealth management services offered by CITI Bank are also some alternatives, especially for exclusive customers. The institution is able to provide a wide range of services to its customers thanks to the NRI banking option. See the following article for other alternatives.
Citi Bank Benefits
Quick Cash
With partial withdrawal options, you can get cash easily and quickly from Citi Bank. The CITI Bank provides services in areas such as credit cards, loans, insurance, home loans, wealth management, and NRI banking.
Crisil Rating System Score
In the Crisil Rating system, CITI Bank has a 4.5 out of 5.
Loans
Loan types are very popular among the services offered by the CITI Bank. With different loan options such as Personal Loan, Loan on your Credit Card, Ready Loan, Loan Against Securities, Loan for Commercial Vehicle, Construction EquipmentCiti, and Business – SME Business Loans, you can get the cash you need quickly.
The bank is very popular in terms of CITI Bank home loan options. Thanks to loans with a maturity of up to 25 years and very high rates of withdrawal, you will be able to become your homeowner in a very short time. Moreover, interest rates of loans vary between 3% – 6.25%.
Cards
The Citi Credit Card is one of the bank's most popular products. Very popular in terms of cashback rates and welcome bonuses, this credit card offers Rs 1000 cashback in the first process.
CITI Bank Insurance options can be listed as Life Insurance, Protection Child Plan, Legacy Planning, Savings Retirement. You can apply for all these types of insurance.
Citi Bank FAQs
What are the necessary documents for the application?
Of course, as you can guess, the necessary documents change as the kind of application changes. So, check the official website for different applications' requirements. However, generally, ID Proof and Adress proof are two different documents are required for all of the applications.
What is the tenure range offered by Citi Bank?
As one of the most popular banks in India with various ATMs and branches, the tenure range offered by Citi Bank is 7 Days Onwards. You Can benefits from this tenure range easily.