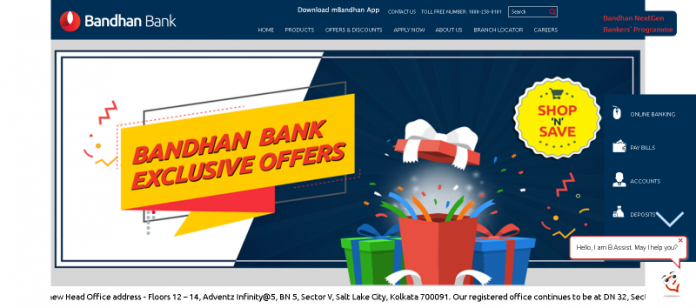 Reviews:
Considered in the category of financial services company, this institution is highly developed especially in terms of providing users with saving accounts. Those who want to save money quickly and who want to increase their money through futures accounts generally prefer Bandhan Bank. The company actively provides services in various fields such as accounts, loans, fixed-rate deposits, NRI Banking and credit cards.
Bandhan Bank Benefits
Good Saving Accounts
Saving accounts are offered by the Bandhan Bank with various advantages. You can benefit from interest rates up to 6 percent annually in your accounts where you have saved a lot of money. If you have 1 lakhs Rs. or more money, you can easily take advantage of this alternative. If there is less than 1 lakh Rs., the annual interest rate will be 4.25 percent.
Premium Saving Accounts to Save More
The Bandhan Bank saving accounts alternatives have different levels depending on the amount of money you will keep in these accounts. For example, highly advantageous accounts called premium saving accounts are available for savings of 1,00,000 Rs. and more. The Advantage Savings Account alternative is usually offered for those who accumulate Rs 25,000 or more.
Good Interest Rates
Interest rates of different loans offered by the institution may vary. However, it is possible to say that these interest rates are between 6.5% and 7.5% on average. The institution provides extra advantages to the users in the process of paying the loan debt.
High Score in Crisil Rating System
In the Crisil Rating system, the score of the Bandhan Bank is determined as 5 out of 5.
Variable Transactions
The tenure range offered by the organization for different transactions varies between 7 Years to 10 Years.
Credit Cards
Bandhan Bank One, Bandhan Bank Plus, and Bandhan Bank Xclusive are 3 different credit cards offered by Bandhan Bank. Each credit card has different alternatives. Individuals wishing to take advantage of the highest level of benefits usually apply for Bandhan Bank Xclusive.
Bandhan Bank FAQs
What are the loan alternatives offered by Bandhan Bank?
There are many loan types offered by the Bandhan Bank. Some of these alternatives are personal loans, two-wheeler loans, gold loans, MSME loans, Microloans, Agri Loans.
What are the necessary documents in the process of applying to Bandhan Bank?
Here are the necessary documents for the application process. You can see other details for the application from the official website. 
Indian & overseas Address proof

Self-attested photocopies of Passport 

Valid work permit

employment visa

Residency card
Pros
The bank has attractive offers for savings accounts.
You can save a lot with Premium Saving Accounts.
It is one of the most trustworthy banks of India with high points in the crisil rating system.
There are variable credit card offers.